Art of Clubmaking
Masters of Clubmaking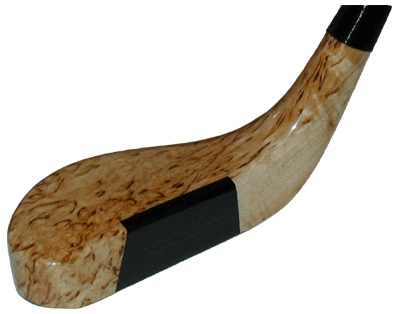 We would like to take this opportunity of introducing ourselves to you: The makers of the very finest handmade golf clubs.
We have been designing and making clubs of the highest quality for over 40 years.
Natures Inner Beauty

We are now able to show you many of our products, especially our luxury putter range, made in some of the worlds most beautiful woods; Cocobolo, Ebony, Lignum Vitae, Leadwood, Purpleheart and Tulipwood, to name just a few.
These putters are unique and need to be seen to be fully appreciated, perfect for corporate golf days, prizes, trophies, gifts etc., as they can also be engraved with a company logo and with personalized names and dedications.
Antiques of the Future

Our "hands on" approach means that all our clubs are totally handmade by craftsmen from eco-managed timbers and come with our standard 3 year guarantee. There is no mass production here!
Our Master Clubmaker Keith Dudman, is a member of the PGA. Customers placing orders with us can do so with confidence and be assured of our service commitment. Should you require any further information, or a sample of our product, please do not hesitate to contact us when we shall endeavour to give you every assistance.
Production of a wooden putter:

Picture 1. shows cocobolo, that has been drying for 3 yrs, being cut out using only the best grain patterns. The selected piece will then be inserted with ebony, before being bonded to the brass plate.

Picture 1.
. Picture 2

Picture 2. shows the brass plate being cut out to shape, after which the base angles are cut off and then the plate is ready to be bonded to the exotic wood with both epoxy and brass screws. The putter head is then shaped by hand merging the two materials together. The face angle is then set at 3 degrees, the putter head is then checked for weight and adjusted accordingly before drilling for the shaft.

The putter head is then prepared ready for six coats of acrylic lacquer.

No stain or colour is added to the wood.

Only the woods natural beauty is seen through the crystal clear lacquer. This process takes a minimum of 3 days, we "cut back" in between every second coat. When the lacquer is hard, we then buff and highly polish the lacquer to a high lustre. Any engraving can be done before lacquering or before the two finishing coats. The shaft must first be trimmed at both ends before double bending the tip end. This is what enables us to face-balance the putter. The putter is then gripped, polished and packed into a headcover ready for shipping.

One putter takes a master clubmaker around 10 hours of skilled work from start to finish ! This includes TLC !